Big CHEERS for MBA School Admittance at Carnegie Mellon University!
The Back Story
I decided to study for the GMAT last year when my twin sister decided pursuing an MBA along with her PharmD would be a killer combo. I have my undergraduate degree in Economics and Statistics from Carnegie Mellon and have 5 years of consulting experience and a life coaching company called FindYou. It made sense for me, too!
Therefore, when I heard about my twin's interest, I decided to follow alongside her on her MBA journey. After a busy work schedule flying to Seattle weekly, fitting in studying became tough so I ended up paying to re-schedule my GMAT exam to December of 2018. My sister did the same. I then went into full study mode for three months by studying every morning during breakfast when I was at the Marriott in Bellevue.
Within 1.5 weeks of the exam, I took 2 practice exams and decided I am ready to do my best. I ended up scoring above expectations (not a crazy amazing score but a good one).
Then, I decided to push myself and apply to the one MBA Program I had my eyes on: Carnegie Mellon University's Part-Time Flex MBA Program. Meanwhile, my twin, Janetta, and her husband, Misha the Jeweler, found out they were pregnant quickly after Janetta took the GMAT exam. So, she decided to push off her MBA to focus on their new bundle of joy coming in September of 2019. See us enjoying a night out as I rub her adorable growing tummy:
Later on, I was lucky enough (okay, maybe it was due to all the hard work) to be chosen to attend an onsite interview at the new fancy Tepper Business School building. Then, silence until May 8, 2019.
Date of Trial (& Celebration) May 8, 2019
In all honesty, I forgot about it and then yesterday morning I looked at the calendar and said to myself, "Wait a second, I should be finding out about Carnegie Mellon soon." Then, I was a nervous wreck on the inside since I was worried I wouldn't get in and then it was past 4 PM EST and still nothing! No email, call or anything.
Then, after my 4 PM EST IBM work meeting, I received a call and BAM! I was near tears! I got in!
Naturally a lover of celebration, you will find pictures of my celebrations at a speakeasy in the Southside below. Thank you to my boyfriend, Emile, for taking me out to celebrate. And a huge thank you to my twin sister, Janetta, since without her push and her help throughout the MBA application process, I wouldn't be here celebrating this exciting next chapter in my life.
Location Acacia, 2108 E Carson Street, Pittsburgh, PA
Purchased Bookend Vesper-ish (see their unreal cocktail list below)
The Ratings
Overall - B-
Items below are rated on a scale from 1 to 5 (1 being the lowest and 5 being the highest)
Presentation - 4 (delicately cut lemon peel)

Boldness - 5 (BOLD is for sure a way I would describe this drink)

Sweetness - 2

Price - $12.00
For me, the gin overpowers the taste buds. Although I gave this drink a lower rating, I also tried the Boba Fett and I will be posting that review sometime this month!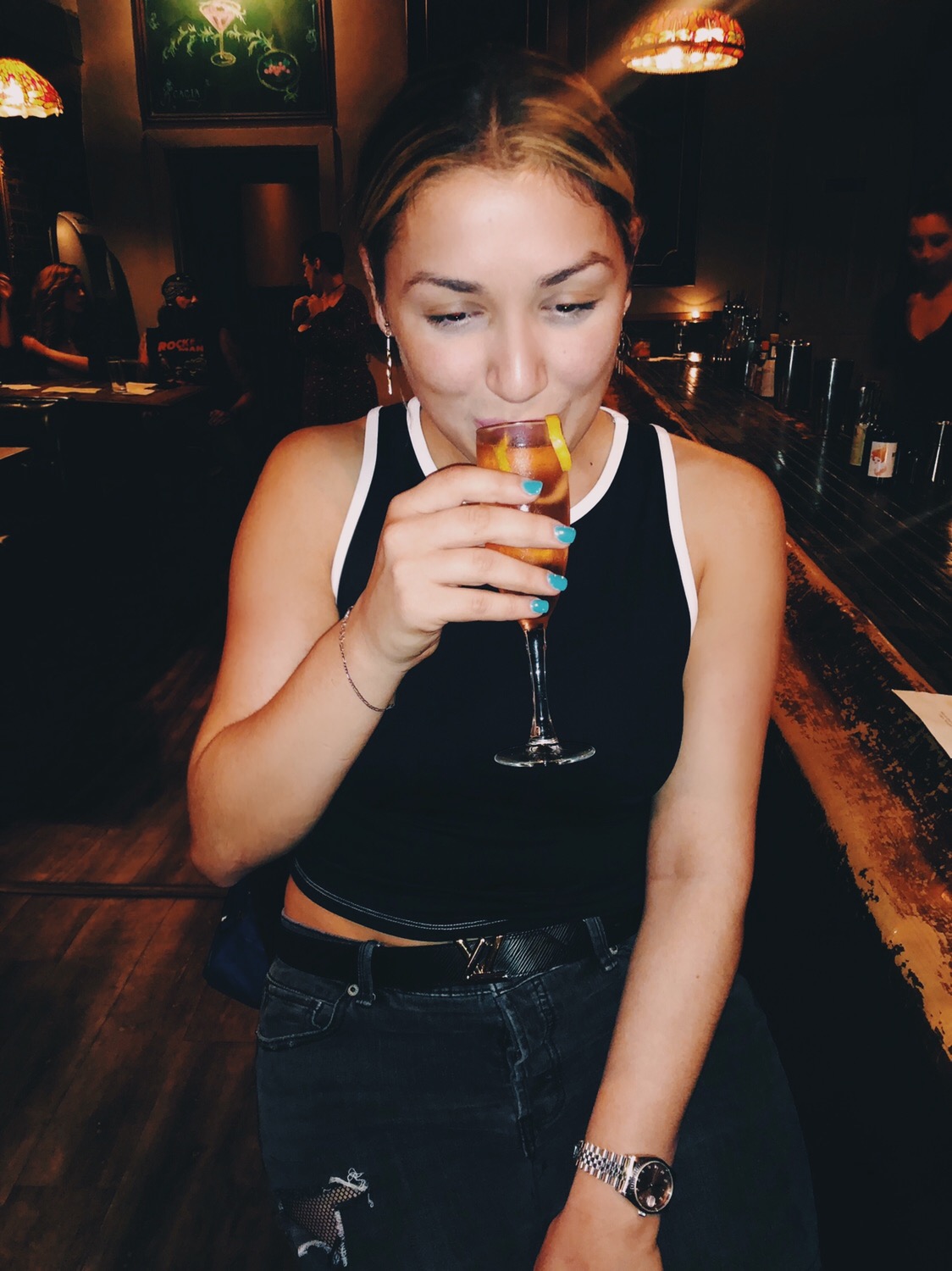 The drink was high in alcohol content level
Gin back-flavor wasn't my favorite but the drink is probably more appealing to gin-lovers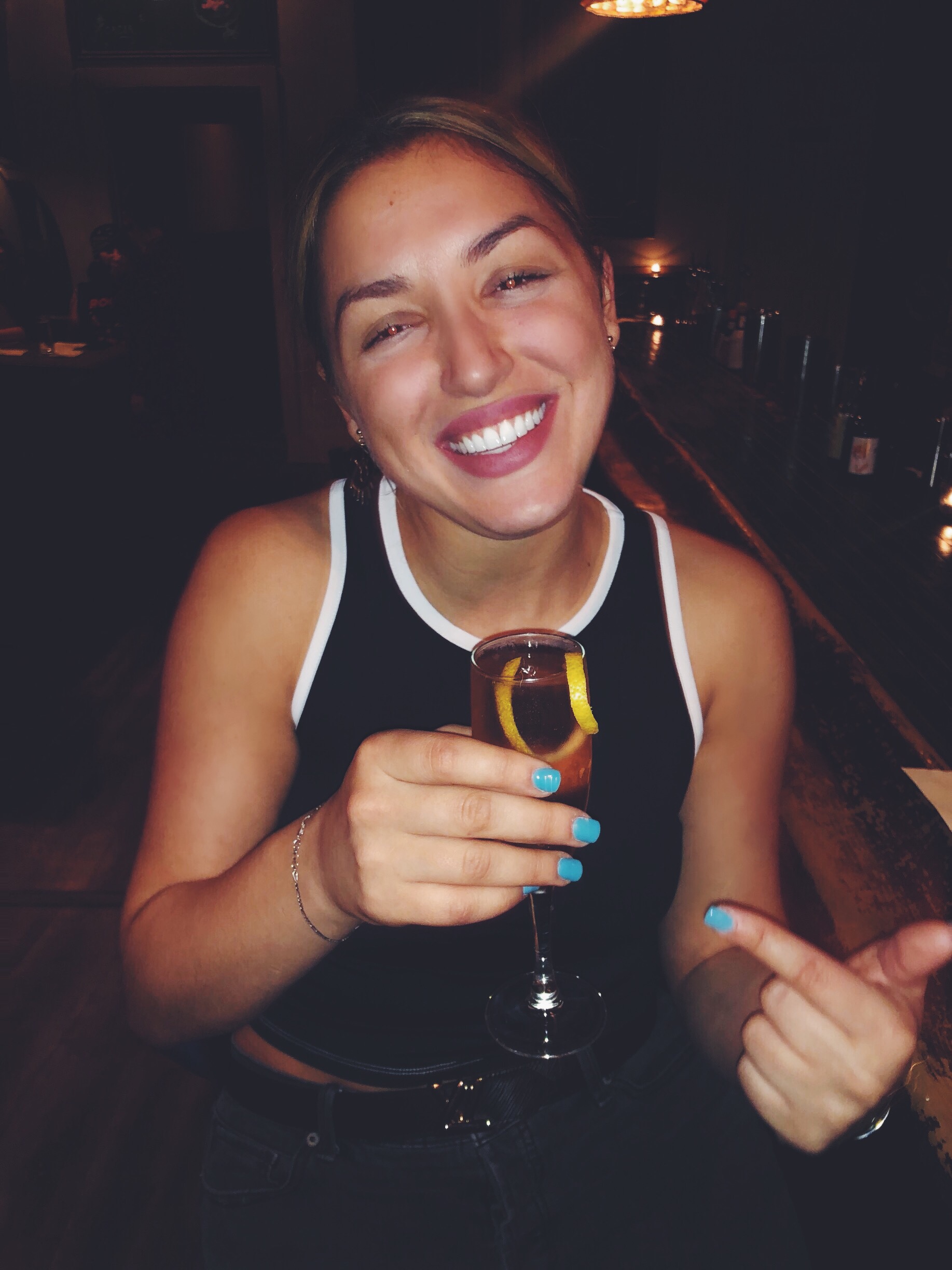 Yes, I was smiling pretty big
Thank you, Emile, for the picture and more importantly for surprising me with the celebratory outing
Cheers!
-Nancy "Brew" Geronian